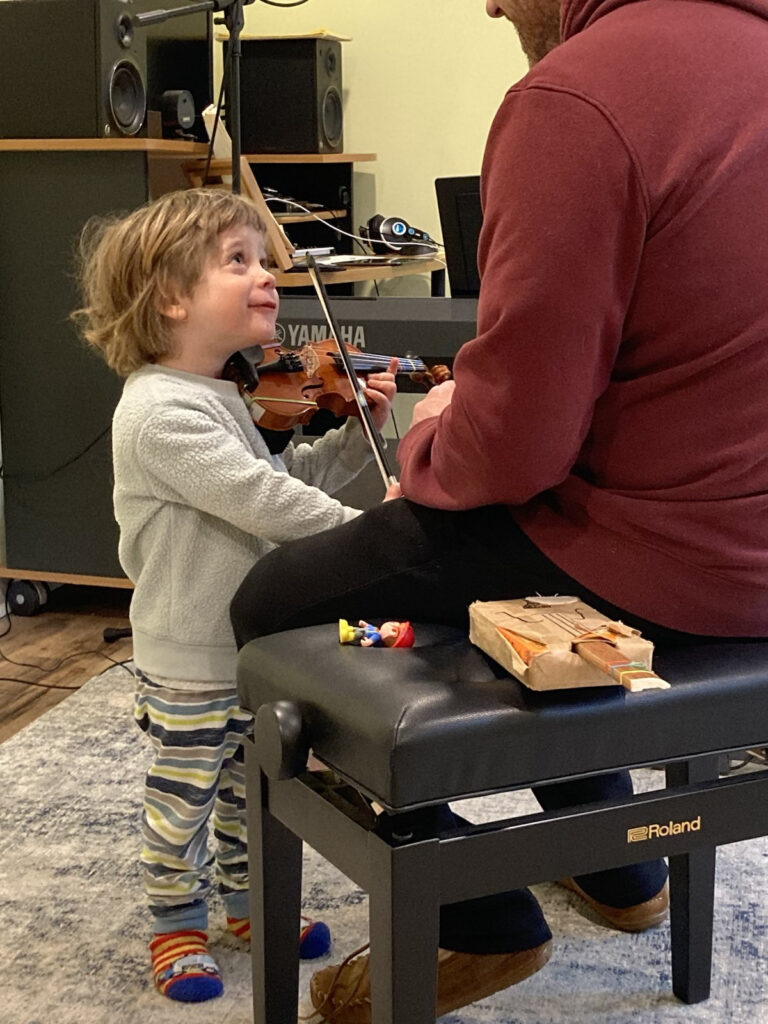 The first year of violin lessons is the most challenging time for students! There are many new skills that you need to learn. Violin students need to practice at home regularly in order to have a meaningful experience at their lessons. Progress is a very personal thing – your child might be zooming through Suzuki book 1 or might take a little longer . Many students who were "slow beginners" have become professional violinists, and have great careers. It's all about determination, persistence and practice! It is very important to practice every day, even if it is only for a few minutes, in order to build a practice routine.
At what age should I start?
All ages are a good time to start! Children 3-8 years old learn violin in the Suzuki technique, and older children can too. Students with background in other instruments and adults take a hybrid approach that involves more reading. Please schedule a meeting with me and attend a lesson in my studio to know which plan works for you.
How are Suzuki lesson different? What will the program be like?
the Suzuki method puts the parents in the violin playing team. Parents observe and take notes during lessons, and support their children's progress at home. You as a parent will also learn about the violin, the bow hold, and the songs, and participate with your child's practice through activities at home. Participation varies with the child's age and experience. The most parent participation usually happens during the first year of study.
In addition to private lessons, students also have group classes every week or two. The group classes reinforce technical and musical skills and children will play their songs together with the teacher and other children during the group class. Group classes are fun! Children often consider the group classes to be the best part of learning violin.
What are the skills that we develop through the violin?
Practice, practice, practice! Children who play their instrument on a daily basis have a dramatically higher success rate on the instrument, feel better during their lessons, enjoy playing more and are more likely to keep playing in the future. See also "How to prepare for my violin lesson" for tips.
Musical abilities – reading, listening, rhythm: We will start on the development of these musical skills on the violin during the first year. The development of these skills is at the core of the group lessons, and build a foundation for future progress. This is why it is highly recommended that students take group classes in addition to private lessons.
Motor Skills – The violin requires a very different use of left and right hands. Right hand connects through the bow, left hand separates through the fingers. We learn about bow hold, violin hold, making sound with the bow and finally adding the left hand to play songs. Once again, these skills are developed both at individual lessons and at group classes.
The Parent as Teacher – Being involved in your child's first steps on the violin is encouraged. It is important to remember that learning is not a straight line – there will be moments of progress and times of apparent stagnation – all are part of the learning progress. I am here to support you!
Great! When should I start?
The best times are at the beginning of the school year or spring semester for easier placement with a group.
What do I need to get before my first lesson?
First, you will need a violin. The following stores offer rent-to own programs and are recommended for beginners:
Gailes' Violin Shop: College Park.
Music and Arts: Various locations. Cheapest option, violins are ok usually with no major issues
Lashof Violins: Gaithersburg. Nice and affordable
Potter Violins: Bethesda. They also have options for more premium instruments
(Violins come with bows and a violin case)
Note: Check your violins and make sure that the bow is haired properly and that all the strings are on. Ask if the violin comes with rosin. Be prepared to go back for adjustments if needed.
Other equipment:
1. Shoulder rest or sponge. Acceptable brands for shoulder rests are Kun, Everest and Wolf. Smaller kids (4-7) are sometimes better off with a sponge. Wait until taking a violin lesson before purchasing.
2. Suzuki Violin Method, Vol. 1 + CD (or digital version through iTunes/Amazon). Available on Amazon, Music and Arts.
3. Three ring binder for taking notes – I will supply the practice chart.
4. Music stand – for use at home.
5. Rosin – usually comes with your violin.
6. A clip-on tuner – Optional, useful for tuning at home.
How do I Prepare for My Violin Lesson?
Take good notes during the lesson (either parent or student, depending on the age).
Use the practice chart to keep track of your practice at home.
Choose a lesson time that is convenient and not too taxing on you or your child.
Put your violin lesson time on your calendar or set a reminder on your phone.
Make sure the violin is tuned and in good working order (you can use a clip-on tuner even if you are not an experienced musician).
Have the proper equipment – books, a music stand, rosin, shoulder rest (see other equipment on "Beginners-what to expect").
Make practice into a routine – choose a time for practice in your daily schedule.
If you are coming directly from school, have a snack ready for your child before the lesson.